SHIROGANE CLAN
Sanjuro Clan Banner-Clan
Roster
Availability:
0/5 positions filled
Clan Members:
-  
-
-
-
-
The Shirogane clan is a puppet clan from the Land of Wind. The Shirogane clan live in the border of the Land of Wind. They are a small clan and have only a few skilled ninja. They are thus adept with the Puppetry jutsu and other puppet techniques. The Shirogane is comprised of ninja with meager skill compared to the other existing Shinobi clans. However, they were highly proficient in the puppet-making arts, as it was their apparent inferiority that led to them developing the Puppetry Jutsu.
Classification:
Hijutsu
Kekkei Genkai/Hijutsu:
Puppet Mastery
Description:
Known far and wide for their skills, the Shirogane are the masters of puppet warfare. At a young age they begin crafting their own unique puppet, adding on to and modifying it throughout their life as they gain additional skill in their craft or just have a random brainstorm. These puppets become both an expression of the puppeteer's personality, and an extension of their own body. The puppets are controlled via a series of chakra strings, granting the user minute control over the design's movements as they guide it across the battlefield. Should these strings be cut however, the puppet will become a useless pile of wood and/or clay until repairs can be performed.  
Abilities Summary


The Shirogane Clan gains the Added Specialty(for Kairaijutsu :: Puppetry Techniques) Special Ability for free.

This SA takes none of the SA slots from Shinobi of this clan.

Kairaijutsu :: Puppetry Techniques become the Primary Specialty of Shinobi from this clan.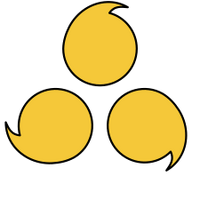 Admin




Posts

: 236


Join date

: 2011-04-26


Location

: USA



Clan Warfare Information
| | |
| --- | --- |
| PC Population | 0 / 5 |
| Clan Resource Points | 0 points |
SHIROGANE CLAN

CLAN MILITARY STRENGTH

Offense Rating

Defense Rating

■

■
Admin




Posts

: 236


Join date

: 2011-04-26


Location

: USA




---
Permissions in this forum:
You
cannot
reply to topics in this forum